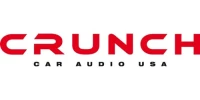 Karma Digital LTD is the official-authorized representative of the Crunch brand in Ukraine.
Crunch has been creating amazing sound in the mobile audio industry for over three decades. Part of the Maxxsonics family since 2001, Crunch offers a wide range of products that vary in features, price, and power to suit any system design. Featuring music across all platforms, breathing new life and fresh sound into your songs, Crunch takes your listening experience to new levels of clarity, volume, and POWER.
From rugged amplifiers that take music to the next level of performance, to subwoofers that elevate bass play, to speakers that immerse you in volume without distortion, Crunch has the solution your sound needs.
Crunch is owned by Maxxsonics, based near Chicago, Illinois, and is a huge force that draws every listener to every song. Bringing out the best that sound has to offer—music must be fueled by amazing performance that gives you goosebumps at every jam session—this is what Crunch promises to bring to every musical genre.
Karma Digital LTD is proud to be the official distributor of the Crunch brand in Ukraine and can provide its customers with certified top-class products, an official guarantee and service.
Thank you! You have been successfully subscribed to company new
Thank you! Your email has already been added earlier.

Join our community and be the first to receive all the news