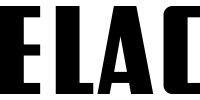 The German company ELAC was founded in 1926 in the city of Kiel, on the coast of the Baltic Sea. It became famous due to hydroacoustics which were built in the famous Kingsmarine submarines. After World War II highly qualified employees and good production equipment allowed the company to change business specialization and focus on production of consumer audio record players and radios. Over the past decade, ELAC, as a well-known German manufacturer of acoustic systems, has become a truly global brand. Its products are still produced in Germany. Now they are not only acoustics, but also unique stream players, amplifiers, vinyl turntables and many others. ELAC is able to present products of the most various class. At the same time, being the owner of a huge number of patents, the company embodies truly German perfectionism both in the development and manufacture of each Hi-Fi product.
Thank you! You have been successfully subscribed to company new
Thank you! Your email has already been added earlier.

Join our community and be the first to receive all the news