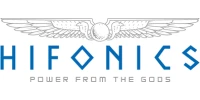 Karma Digital LTD is the official-authorized representative of the Hifonics brand in Ukraine.
Set the standard for sound quality. Get more out of your sound. This is what Hifonics promises to deliver in every product. Sound must not just be heard – it must be felt, transformed, immersed and turned into an adrenaline soundscape in every measure and note. Hifonics, known for its bold design with powerful and high-quality sound, showcases solutions that provide the best sound quality.
Founded by Helmut Stiglitz in 1982, Hifonics continues to produce products that turn sound into a whirlwind of high quality sound. All products are forged by the gods and give life to any song from any musical genre. From amplifiers to subwoofers, speakers to soundbars, and even signal processors to Powersports audio kits, Hifonics promises a superior listening experience.
Karma Digital LTD is proud to be the official distributor of the Hifonics brand in Ukraine and can provide its customers with certified top-class products, an official guarantee and service.
Thank you! You have been successfully subscribed to company new
Thank you! Your email has already been added earlier.

Join our community and be the first to receive all the news