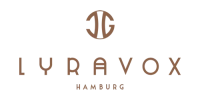 Karma Digital is the official distributor of Lyravox in Ukraine.
Lyravox is a German company producing premium acoustics. The speaker systems of the company were created on the principle of "No compromise", only the best materials and technologies. Each column is a work of art, both acoustic engineering and design decisions.

All systems are assembled manually in the city of Hamburg (Germany) and are fine-tuned. Lyravox loudspeakers are deservedly called the premium of the Hi End segment, and not only because of the sound quality that is physically impossible in monoblock solutions of other companies, but also because of the feeling of admiration for the all-pervasive and absorbing sound that exceeds the expectation of even the most sophisticated audiophiles.

Design solutions of the systems allow them not to become an addition, but to decorate any room where they are located. Acoustic systems do not stand out from the interior, do not shine with bright light, however, it is impossible to tear your eyes away from the perfect combination of nature and technology.
If you are the one who wants the best in your segment and are not ready to compromise, then your philosophy is similar to Lyravox.
Thank you! You have been successfully subscribed to company new
Thank you! Your email has already been added earlier.

Join our community and be the first to receive all the news