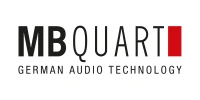 "Karma Digital LTD" is the official-authorized representative of the MB Quart brand in Ukraine.
MB Quart is a brand of high-quality audio equipment, known for its thoughtful and original design, which provides rich sound quality. Founded in 1962, MB Quart began manufacturing professional studio microphones and headphones at its headquarters in Obrigheim, Germany. Through research, innovation, and a commitment to the highest standard of sound quality, MB Quart has continued to expand its product line throughout its 50-year history.
Owned by Maxxsonics and based out of Chicago, IL, the MB Quart brand continues to give those looking to get the best out of their sound everything they need and more. Define your passion for sound with playback that transforms sound into a concert atmosphere of quality, power, volume, and performance.
The Karma Digital LTD company is proud to be the official distributor of the MB Quart brand in Ukraine and can provide its customers with certified products of the highest class, an official guarantee and service.
Thank you! You have been successfully subscribed to company new
Thank you! Your email has already been added earlier.

Join our community and be the first to receive all the news