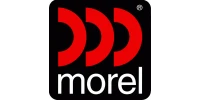 Karma Digital is the official distributor of the Morel brand in Ukraine.
The constant leader of Morel, Meir Mordechai, founded the company in 1975. The brand name comes from Mordechai Electro-acoustics. Acoustics, according to Morel, requires more than just advanced technology or the latest industrial equipment. An absolute necessity is human participation, a passion for the best. Company - is the annual winner of the "Best of" award for the best home and mobile audio samples. Morel drivers are used in the most popular and high-quality systems. Morel Home and Car Audio is popular in more than 55 countries. Among the unique developments of the company are double neodymium, ferrite and hybrid magnetic systems, large external voice coils with hexagonal wire winding and other innovations. Each Morel product is hand-assembled and passes seven different quality tests. The unique knowledge and patented know-how acquired by the Morel team over three decades of working with sound create the highest quality of all its products.
Thank you! You have been successfully subscribed to company new
Thank you! Your email has already been added earlier.

Join our community and be the first to receive all the news