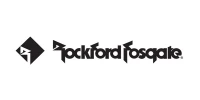 Karma Digital is the official distributor of Rockford Fosgate in Ukraine
Rockford Fosgate is a U.S. company founded in 1973 by self-taught engineer, inventor and businessman Jim Fasgate. The main activity of auto and motorcycle audio. The company's motto is "Created by fanatics for fanatics", which implies a fanatical attitude of the company employees to their work.

Rockford Fosgate in its products strives to create the most "honest" sound so that the end user can get the effect that the creator of the track wanted to convey. The company is a world leader in the field of audio innovation in design and engineering.

All product design and testing takes place in Arizona, and after testing testing takes place again and lasts until the engineers make sure that the solution they create will serve the debts and sound like the first day. In almost any competition, you can meet a participant using Rockford because the company's products can withstand tremendous loads.

The number of awards in the entire history of the company can not be counted, from regional auto shows to world exhibitions and prestigious tournaments. All of the above is the best proof of the high quality and excellent characteristics of all products of the company.
Thank you! You have been successfully subscribed to company new
Thank you! Your email has already been added earlier.
Subscribe to the latest news and be the first to know everything about the latest Rockford Fosgate