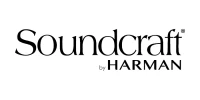 The official representative of Soundcraft in Ukraine, the Karma Digital company
Founded in 1973, Soundcraft first made itself known with the launch of the industry-new Series 1, the first mixing console built into the enclosure for easy movement to meet the needs of a growing market for touring groups. Since then, she has become a leader in the field of digital and analog mixers for concert tours, recording studios, theaters. Design and innovation have always been at the core of Soundcraft's philosophy. Over the years, he introduced a number of iconic consoles, such as Broadway, Sapphyre. GB Series, MH Series, Vi Series, Si Series, Signature Notepad and Ui. All Soundcraft remotes have a simple and intuitive interface that is familiar to professionals, but also easy for beginners to understand. In turn, all digital mixers, as well as the Notepad (8FX / 12FX) and Signature series, are equipped with Lexicon digital effects to give your products the unique sound that is usually only achieved in recording studios. And the cult microphone preamps Soundcraft Ghost, provide exceptional sound quality with high volume margin, wide dynamic range, exceptional resolution and clarity with an excellent signal to noise ratio.
Thank you! You have been successfully subscribed to company new
Thank you! Your email has already been added earlier.

Join our community and be the first to receive all the news