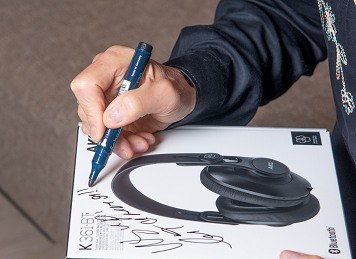 Contest for Harman Pro dealers - AKG K361-BT headphones as a gift
"Karma Digital" is the official distributor of Harman Pro in Ukraine.
A partner who, following the results of the 4th quarter of 2021, will make the most of sales in products directly Harman Pro - we have taken away the AKG K361 BT earphones from the gifts of childless children, autographed by Oleg Skrypka, the frontman of the legendary Ukrainian band "Vopli Vidoplyasov"
Professional headless earphones AKG K361-BT provide perfect balance between studio sound, Bluetooth functionality and stylish, smart design.
Oleg Skrypka at once from the musical producer Roman Mukhoy was brought up to the showroom "Karma Didzhital" with a special viprobuvati AKG K361-BT that sang at the sound of their sound.
The streaming rating of partners will be published on the social media Facebook, Instagram, and on our Telegram channel.
---