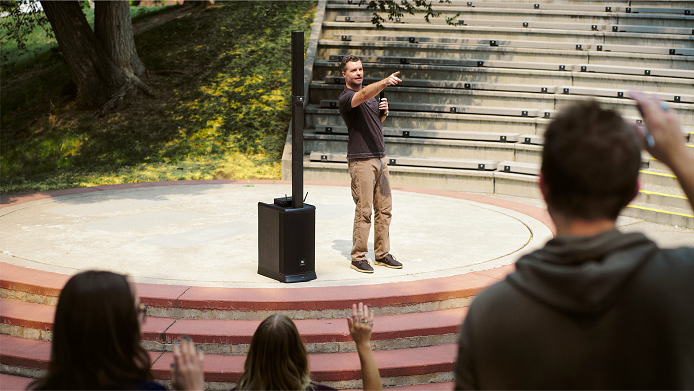 JBL EON ONE MK2 - a new battery-powered speaker system
New from JBL Professional - a multifunctional battery-powered speaker system for use at outdoor events, which are held anywhere. The system is suitable for musicians, DJs and presenters who need to provide sound everywhere even if there is no power.
JBL EON ONE MK2 is an all-in-one system. In addition to impressive sound characteristics, it boasts a wide range of built-in technologies and solutions:
The C-shaped array of 8 2-inch tweeters gives excellent clarity and sound scattering at 140 ° horizontally and 30 ° vertically. Together with a 10-inch subwoofer, the system will provide powerful sound up to 119 dB from the battery and up to 123 dB from the power supply.
Built-in 400W RMS amplifier (1500W peak), 5-channel digital mixer, Lexicon's professional DSP with a set of basic effects, as well as presets, equalizers and dbx signal control technologies will cover all basic user needs.
Access to all system functions is provided by Bluetooth 5.0 connection, JBL Pro Connect application and built-in LED screen.
Battery operation is expected at the level of 6 hours of work, which is enough to organize an event of medium duration without recharging.
JBL EON ONE MK2 sales to start in 2022
---