JBL Stage HiFi speaker set for home theater - 14% savings
JBL Stage HiFi speaker set for home theater - 14% savings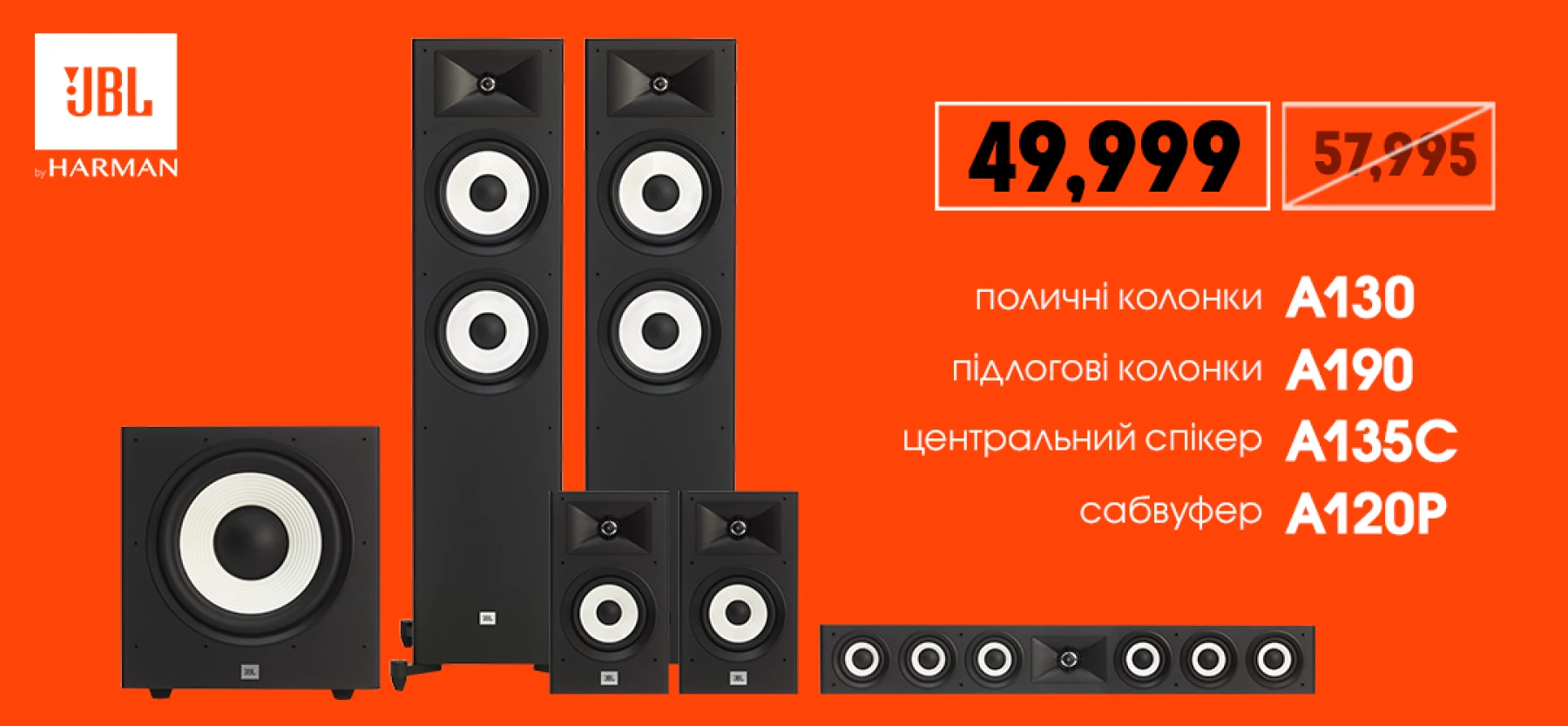 Срок действия акции: 21/02/2022 - 31/03/2022
JBL Stage HiFi speaker set for home theater - 14% savings
Cool discounts for fans of watching quality movies at home! Karma Digital announces a special offer for JBL Stage HiFi speakers for home cinema theater.
We offer savings of almost 8,000 hryvnias for a set of the shelf and floor-standing acoustics, central channel, and subwoofer from the leading audio brand - JBL.
A set for UAH 49,999:
• A190 floor columns
• A130 police officers
• A135C center speaker
• A120P subwoofer
(the price of the set is UAH 7,996 lower than purchased "in pieces")
Description:
The flagship of the Stage (Home Audio) speaker series, the JBL Stage A190 floor-standing speaker has a 2.5-band design. The model easily copes even with large rooms, filling them with powerful, rich, and realistic sound. The speaker is a universal solution and works great as part of a home cinema theater, where it is usually given a role associated with the front channel's sound.
The JBL Stage A130 is a modified version of the younger model of this series. In fact, this speaker is a classic Hi-Fi monitor, which is perfect for accurate music playback in any environment. By its nature, the sound of JBL Stage A130 is perfect for the front channels of the home cinema theater.
The JBL Stage A135C central channel is a home cinema theater speaker system that will fill your home or apartment with the atmosphere of a real full-scale cinema.
The JBL Stage A120 can be used both in stereo systems for sounding small rooms and in the rear channels of the home cinema theater. In this case, the speakers can be placed on the wall, there are even special holders.
Look for JFL Stage HiFi speakers for home cinema theater in the wide Karma Digital dealer network and save 14% on the set.
---
Goods that are included in the promotion