JBL Stage HiFi speakers for home theater - 12% savings
JBL Stage HiFi speakers for home theater - 12% savings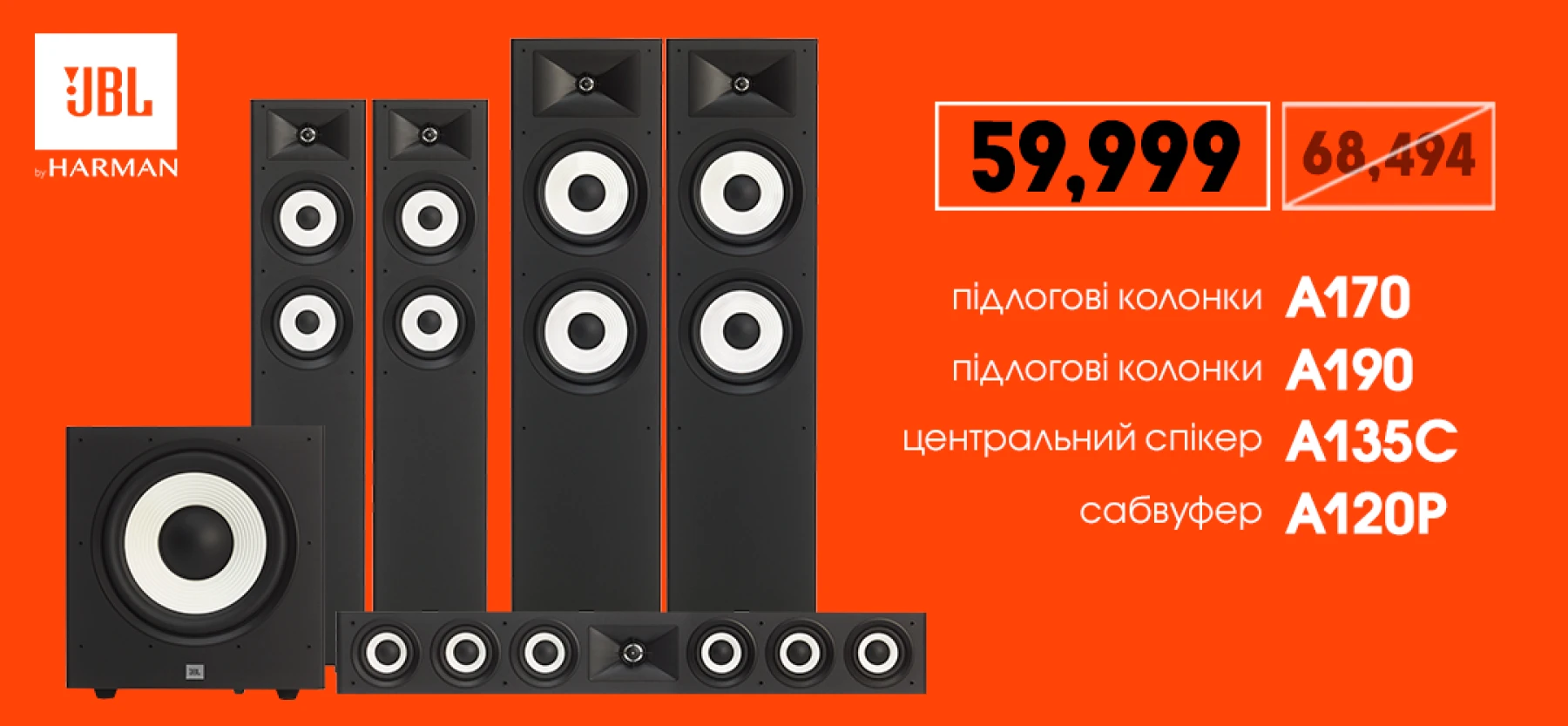 Срок действия акции: 21/02/2022 - 31/03/2022
JBL Stage HiFi speakers for home theater - 12% savings
In anticipation of the appearance of your home cinema theater, Karma Digital is offering a 12% discount on JBL Stage home cinema theater speakers.
Floor-standing speakers for cool "front" and "rear" sound, center speaker, and subwoofer with a saving of 8,495 hryvnias.
Set for UAH 59,999:
• A190 floor speakers as "front"
• A170 floor speakers as "rear"
• A135C center speaker
• A120P subwoofer
(savings on the set - UAH 8,495)
Description:
JBL Stage A120P - active subwoofer with the long-range speaker, provides powerful and high-quality bass. It has a 25 mm high-frequency aluminum speaker loaded on a loudspeaker with a high-resolution acoustic lens.
The JBL Stage A135C Black Home Theater Speaker is designed specifically for use with large diagonal TVs as well as projection screens. With a body length of 745 mm, it looks great with even the largest TV, and the soundtrack is precisely synchronized with what is happening on the screen.
The JBL Stage A170 floor-standing speaker is equipped with a pair of 5.25-inch drivers for the mid-frequency and low-frequency ranges, with lightweight, strong cone diffusers made of polycellulose. There are two round phase inverter ports in the back of the JBL Stage A170 to amplify the woofer. The result is a fairly strong and deep JBL branded bass.
To reproduce the high-frequency band JBL Stage A190 uses an inch tweeter installed in the company's high-definition speaker High Definition Imaging (HDI) with a divider. The dome of the high frequency is made of aluminum, and the upper limit of the range reaches 40 kHz. This figure allows the speaker to fully unleash the potential of any Hi-Res format. The horn guarantees a holistic sound image, excellent dispersion characteristics, and well-balanced RF with good detail. The result is an accurate, natural, and dense sound.
And with the set, you get a real live sound of a concert, movie, or sporting event right at home!
Hurry up, the offer is limited and is valid from today in all stores of Karma Digital partners.
---
Goods that are included in the promotion