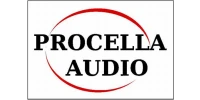 Karma Digital, the official representative of Procella Audio in Ukraine
The story of the Swedish company Procella Audio began in 2005 when, when the Swedish engineer Anders Uggelberg was instructed to equip a cinema in the English headquarters of DTS. Unable to find speakers suitable for the high demands on the market, Ugelberg and his colleague, Gerben Van Duyl, decided to make them themselves, focusing on the highest standards of home theater. Procella Audio speakers are among the few that are designed to accurately reproduce all aspects of modern HD audio formats (24bit96kHz) - from their characteristic transparent sound to the full dynamic range, both for music and for cinema.
Procella Audio loudspeakers surpass the highest standards of the modern entertainment industry and are used in the best home cinema systems and top stereo systems, as well as for post-production in professional studios: for digital cinema, for recording studios, and for film screenings of prime quality.
Procella audio continues to develop and launches new models of speakers and subwoofers.
The lightning fast and powerful Procella subwoofers are designed for one purpose: for accurate, undistorted reproduction of low frequencies - clean and not diluted, with a clear dynamic response, with the ability to reproduce the complex dynamic range of modern 96/24 recordings. Designed for professional audio, the three dual-speaker subwoofers combine high power output with crisp, musical sound to ensure accurate playback in any room - from compact home theaters to small movie theaters.
All Procella subwoofers have a closed enclosure, powerful long-range speakers for reproducing deep bass up to ultra-low frequencies. Class D integrated amplifiers are used on all Procella subwoofer models, with the exception of the P10Si. With superior sound quality, these amplifiers feature a 28-bit ADI Sigma audio signal processor for optimal playback, four preset programs for the user to choose the optimal low-frequency sound depending on the location of the subwoofer in the room.
Thank you! You have been successfully subscribed to company new
Thank you! Your email has already been added earlier.

Join our community and be the first to receive all the news